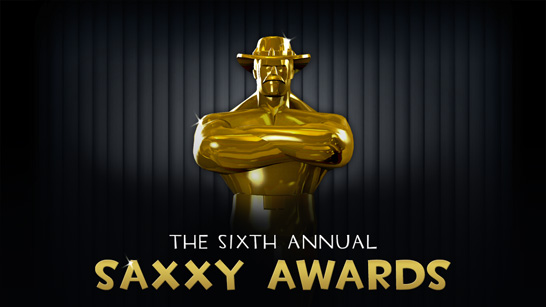 It's time once again to announce this year's Saxxy Awards, and we couldn't be more excited!
Last year
we shook up the rules a bit by reducing the length of the themed categories (Action, Comedy, Drama) and adding a five-minute Extended category. We were overwhelmed with
so
many high-quality entries to the Extended category that there were some great entries that didn't get the recognition they deserved. So, if you're working on an entry to the Extended category, it may be worth editing your piece down to three minutes and submitting to one of the themed categories instead. We know it's not easy, but solid editing can make a good submission great!
As always, we can't wait to see the amazing videos you create! Don't forget that all Valve universes are available for use, and SFM shorts that were submitted to the
Dota 2 Short Film Contest
are also eligible for this year's Saxxy Awards. The submission deadline is
November 11th
. Remember, you can upload non-final versions up to a week in advance of the final deadline, to guard against last-minute computer failures, internet outages, login problems and so on. Check out the
guidelines
for details on the rules and deadlines, and get your entries ready!